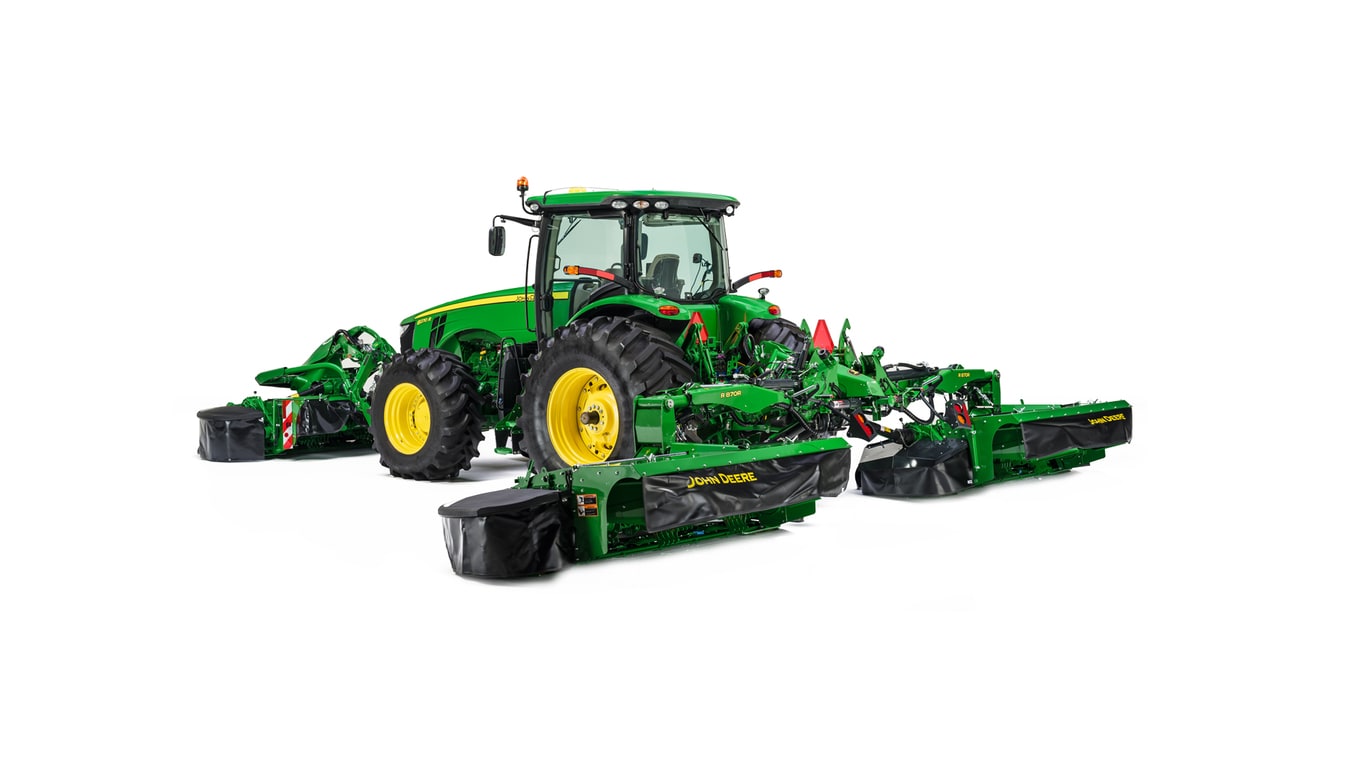 John Deere R870R
Rear Mount Mower-Conditioner
Use front hitch for maximum productivity
High-speed rotary disc cutterbar for cutting in tough conditions
Conditioning and swath delivery
Windrowing solutions to match any needs
View Product Brochure
Features
Cutterbar flotation to match ground conditions
The front and rear mower-conditioners utilize a hydropneumatic suspension system enabling them to follow ground contours. This simple system requires no springs to adjust the flotation system.
Double-rod hydraulic cylinders are used to both lift the cutting platform and provide flotation.
One side of the cylinders is linked to an accumulator to provide flotation.
The other side of the cylinder is used for lifting the cutting platform for transport or going over headlands.
Suspension system enables the cutting platform to follow ground contours at productive cutting speeds.
Flotation is adjusted by opening a valve and using the tractor selective control valve (SCV) lever to alter pressure according to field profile. An easy-to-read gauge enables the operator to confirm that the pressure is within the recommended range. Ground pressure remains consistent even when cutting on uneven ground.
To improve driver comfort, hydraulic overlapping is available with +/- 20 cm (+/- 7.9 in.) if needed, actuated from the monitor in the cab. Ground contour following will be + 24 cm (+ 9.4 in.) upward and – 22.5 cm (- 8.9 in.) downward.
Ground clearance when raising the platform on headlands is approximately 40 cm (16 in.).
Cylinders work independently to enable the cutting platform to pivot from side to side to give clean cutting even on uneven ground. Angular range:
+ 13.3 degrees / - 8.1 degrees with 50 cm (19.7 in.) overlap.
+ 8.7 degrees / -4.1 degrees with 30 cm (11.8 in.) overlap.
On the R870R, R950R, and R990R Twin Rear-Mounted Conditioners, a hydraulic breakaway system is standard equipment:
Should an obstacle be encountered, the cutting platform swings back and lifts up to pass over the obstacle.
This reduces the potential damage to the cutting and conditioning unit and decreases maintenance costs.
For productivity and ease of use, the machine automatically resets on the go.
This flotation system ensures a perfect ground following, reducing soil compaction and providing an excellent cut. Crop stubble is preserved and regrowth is accelerated.
Simple monitor for easy operation of the rear mower's hydraulic functions
The simple monitor enables the operator to easily operate all of the hydraulic functions of the twin rear-mounted mower-conditioner. The parts of the monitor include the following (arrows in the image above correspond to the alphanumeric values below):
Polarity inversion display light
On/off display light
On/off push button
Function selector 4:

A — Front mower-conditioner suspension adjustment
B — Rear mower-conditioner suspension adjustment
1 — Working/transport selection
2 — Right-hand or left-hand individual mower-conditioner selection and headland selection

Push button for transport position
Three-way selector (left, center, or right)
Display lights
Rotary disk cutterbar for cutting in tough conditions
Power is transmitted from the 1000 rpm tractor with 44.4-mm (1-3/4-in.) power take-off (PTO) through a central gearcase to the twin rear-mounted cutterbars.
Each cutterbar is protected by a slip clutch and overrunning clutch
The cutterbar is securely mounted within the frame for strength and durability
Power is transmitted to the rotary disks through fully enclosed gears, running in oil, for quiet, smooth, reliable operation
The high-speed rotary disks cut in the toughest conditions. The disks rotate at 2986 rpm.
Low-profile design enables cutting close to the ground at a flat angle helping prevent damage to the disks and knives

Cutting height is adjusted by changing cutting angle

Pinion gear is easily removed from the top of the cutterbar for service

Idler gears can be removed from access area after removal of pinion gear
Groove on quill shaft, designed to shear upon severe impact with a foreign object, reduces the possibility of damage to the internal components of the cutterbar.
Quick-change knives technology
The cutterbar has been developed to increase productivity through a significant downtime reduction with quick-change knives.

The amount of time spent on changing knives went from 3 minutes per knife to about 15 seconds with quick-change knives. This resulted in saving up to 40 minutes of maintenance time on each platform.

Each cutterbar on the R870R is fitted with seven disks. The R950R and the R990R are fitted with eight disks.

All operators have to do is insert the special tool (attached to the mower-conditioner) between the disk and spring blade, push it down and remove the knife.

This results in no lost parts during the changing of knives.

Large farms, machinery rings, and contractors need high-quality output and ease of serviceability:
Each disk is protected against heavy shocks with a shear point located on the disk drive.
All modules and intermediate gears are quickly and easily interchangeable.
To meet high-quality output, the cutterbar is an oil-immersed gear-driven cutting bed:
All disks are offering an orbital cutting diameter of 440 mm (17.3 in.)
With seven disks, the cutting width will be 3.1 m (10.2 ft), and with 8 disks 3.5 m (11.5 ft)
Disk speeds are 2986 rpm
To meet serviceability, the cutting bed is lubricated for life:
No oil changes necessary
Disks are fitted with quick-change knives technology
Cutting height is from 35 to 85 mm (1.4 to 3.3 in.)
Time needed to change a knife is less than 15 seconds. It is an efficient way to win up to 30 minutes of maintenance time.
Conditioning and swath delivery
Impeller Style Conditioning
Producers need to be reactive to weather conditions when harvest is ready. They must cut faster, with efficient conditioning using swathing or wide spread.
The steel fingers provide the right impact on the plant to remove the waxy coat.
The R870R is equipped with four V-shaped tines in on both sides of the conditioner and 76 straights.
The R950R and R990R are equipped with four V-shaped tines in on both sides of the conditioner and 100 straights.
This accelerates the drying process while requiring little maintenance.
To improve productivity:
Two conditioning positions are available at 755 or 1000 rpm.
Speed change is done by a simple selector on the gear box.
The desired swath size can easily be obtained with adjustable swath deflectors:
From 1.2 to 2.0 m (3.9 ft-6.6 ft) on the F310R and F350R
From 1.45 to 2.40 m (4.7 to 7.9 ft) on the R870R
From 1.85 to 2.40 m (6.1 to 7.9 ft) on the R950R and R990R
Wide spread is available on all machines when very fast drying is required
Proper conditioning in a wide range of crops can be achieved when the conditioner is properly adjusted.

The impeller conditioner works well in legumes, especially alfalfa and most all-grass crops. Impeller conditioners are not recommended for thick-stemmed or cane-type crops, such as sudan or sudex, or crops more than 1.5-m (5-ft) tall.
How an impeller conditioner works:
As hay is cut by rotating knives, tines (2) pick up the plants and carry them through the machine. Tines are free swinging to reduce damage to the conditioner if rocks or other solid objects are struck.
As the plant passes through, it rubs against the conditioning hood (1) and other plants. Scuffing action removes the waxy surface from the stem of the plant to allow faster evaporation of moisture.
The pivot point for the conditioning hood is also adjustable to provide a wider range of conditioning intensity.
The speed at which the tines rotate will also affect the degree of conditioning. Two impeller speeds can be achieved by simply moving the lever from 755 to 1000 rpm.
Square Flex Conditioning
Square Flex conditioning rolls are ideal for alfalfa, but also for heavy forage like sorghum or grasses such as oats or sudan grass. The large diameter (24 cm) provides a good throughput capacity and ensures a smooth material flow without material sticking to the rolls.
Conditioning pressure can be adjusted up to 336 lb/ft by rotating a central adjusting screw placed on the torsion bars. This provides a wide range for conditioning pressure
The double animated rolls are directly driven by maintenance free double transmissions. This allows for synchronization between the two rolls to never need adjustment.
Square Flex conditioning rolls are only available on the F350R, and the R990R.
Windrowing solutions to match any needs
The available room for a windrow is a function of wheel spacing and tire width. The windrow width of the F310R and F350R Front-Mounted Mower-Conditioners may be narrower than the windrows from a twin rear-mounted mower-conditioner if the forming shields are adjusted so the tractor does not drive on the windrow that is produced.
Front-mounted mower-conditioner windrow formation
The desired swath width can easily be obtained by loosening the handle on each side and moving the adjustable swath deflectors to the desired position. Swath width is adjustable from 1.2 to 2.4 m (3.9 to 7.9 ft) on the F310R and F350R Front-Mounted Mower-Conditioners.
Rear-mount mower-conditioner windrow formation
Forming shields are easily adjusted to control material flow. This allows the operator to match the windrow width to harvesting requirements.

The forming shields are easily adjusted to match harvest requirements. No tools are required to adjust the forming shields. Windrow width for the R870R, R950R, and R990R on each unit can be adjusted from 1.3 to 3.2 m (4.3 ft. to 10.5 ft).
R870R, R950R, and R990R Mower-Conditioners can easily be moved to transport or field position
The R870R system will have a front-mounted F310R mower and two rear 3.1-m (10.2-ft) wide mower-conditioners for a total of 8.7 m (28.5 ft), system cutting width. The R950R will also have an F310R on front but will have two 3.5 m (11.5 ft) mower-conditioners mounted on the rear for a total of 9.5 m (31.2 ft) cutting width. The final and largest system is the R990R. This TMMC system will have three 3.5 m (11.5 ft) mower conditioners for a cutting width of 9.9 m (32.5 ft) per pass.
To prepare for transporting, the side curtains of the F310R or F350R Front-Mounted Mower-Conditioner are manually unlocked and folded into the transport position. This will reduce the overall width during transport. There is no longer a locking lever for the side curtains on the F310R and F350R mowers like the 131. There is an additional locking mechanism for the front mowers to prevent the mower from swinging side to side in transport.
Once the front mower is in transport position, return to the cab of the tractor. To fold the rear mowers into the transport position, place dial indicator (4) in picture below on setting 1 and depress button 5 and tractor selective control valve (SCV).
The parts of the monitor include the following (arrows in the image above correspond to the alpha-numeric values below):
Polarity inversion display light
On/off display light
On/off push button
Function selector 4:

A — Front mower-conditioner suspension adjustment
B — Rear mower-conditioner suspension adjustment
1 — Working/transport selection
2 — Right-hand or left-hand individual mower-conditioner selection and headland selection

Push button for transport position
Three-way selector (left, center, or right)
Display lights