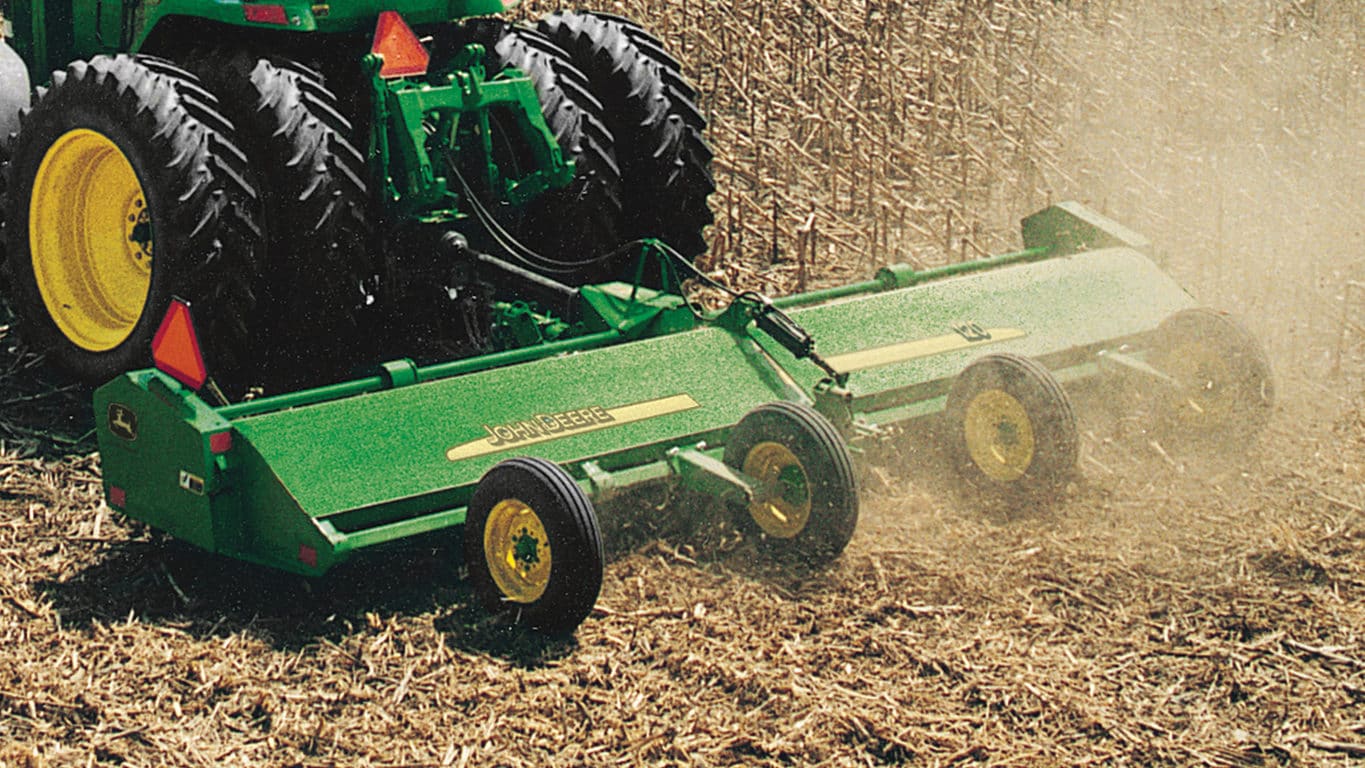 John Deere 120
Drawn Flail Shredder
Front rubber deflectors
Heavy-duty gearbox
Steel rotor bearings
Convenient rear grease fittings
View Product Brochure
Features
Drawn tractor hookup
The 100 Series Flail Shredder is available with a drawn tractor hookup.
Rubber deflectors will not dent or rust
Front rubber deflectors keep debris and other materials under the shredder and away from the tractor and operator. Because they are made out of rubber, they will not dent or rust.
Heavy-duty John Deere-designed gearbox
A heavy-duty gearbox transfers power to the power-band drive belts through cross shafts with intermediate bearing supports:
Gearbox has a constant-duty rating of 150 hp and a maximum rating of 225 hp.
Steel rotor bearings for increased bearing life
The rotor bearings are now made of steel and have a three-lip seal to keep the dirt out and increase the life of the bearings.
The side and center bearings now have guards in order to avoid leaks and dust, increasing the life of the bearings.
Specs & Compare
ADD MODEL

Power requirements

120
Current Model
Tractor PTO hp range
67-200 kW
90-200 hp
Tractor RPM
1,000 rpm
Gear case

Knives

Number of knives
160
Knife dimensions
Knife mounting system
7.87 x 63.5 x 143 mm
0.31 x 2.5 x 5.63 in.
Type
Heat-treated, reversible, side-slicer, hard-faced, tungsten-carbide knives optional
Knives overlap
Tip speed
171 km/h
106 mph

Rotor

Rotor speed
1,500 rpm
Rotor diameter
139.7 mm
5.5 in.
Rotor bearing
Sealed, self-aligning; piloted housing, auxiliary seals, and grease cavities
Bearing size
41.15 mm
1.62 in.

Drivetrain

Belts
Power-band, triple 5VX
PTO drivelines

Mainframe

Hitch
Drawn
Hood thickness
6.35 mm
1/4 in.
Safety deflector
Yes
Gauge wheels
7.60-15 infinitely adjustable row spaces
Warning lights

Cutting capacity

Cutting width
6.1 m
20 ft
Cutting height
7.6 to 25.4 cm
3 to 10 in.

Dimensions

Transport width
2.4 m
7.8 ft
Transport length
7.3 m
24.1 ft
Weight
2,100 kg
4,630 lb

Optional equipment

Easy transport
Yes
Constant velocity joint driveline
Yes
Skid shoes

Additional information