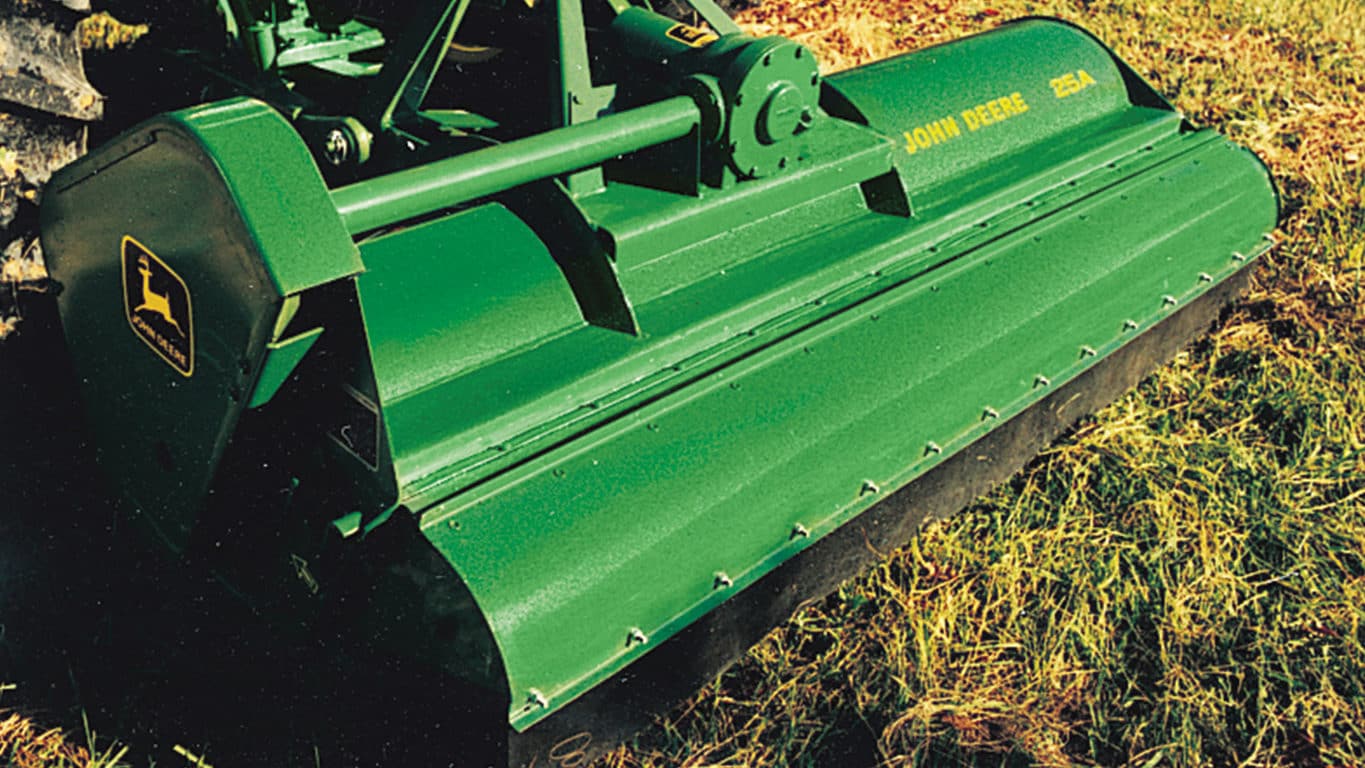 John Deere 25A
Flail Mower
Adjustable cutting height
Uses a heavy-duty gearbox with a rating of 65 hp
Compatible with any Category 1 3-point hitch
View Product Brochure
Features
Adjustable cutting height
The roller can be set at four different cutting heights, from 1.3 cm to 12.7 cm (1/2 in. to 5 in.) The tractor's 3-point hitch upper link is used to regulate the cutting height between these positions.
Power take-off (PTO) drive shaft and gearbox
All mowers use a heavy-duty gearbox with a continuous rating of 65 hp.
The power is transmitted through fully shielded, telescoping drive shafts with quick-attach and detach characteristics for easy hookup.
36 flail-knife rotor provides uniform distribution of pulverized material
A three-bank, counterbalanced rotor is equipped with 36 individually replaceable knives:
Rotor revolves at 1850 rpm to produce a 152.9-km/h (95-mph) blade-tip speed for a clean cut.

Knives are arranged on the rotor to provide uniform distribution of material across the full cutting width.
Knives pivot at their mounting points to minimize damage if an obstruction is hit.
Tractor hookup
The 25A hitch is now compatible with any Category 1 3-point hitch (with or without the iMatch™ Quick-Coupler system).
iMatch compatibility starts with serial number 644700.
Specs & Compare
ADD MODEL

Key Specs

25A
Current Model
Cutting width
Cutting height
Blades - Number
Blades - Type
Rotor - Diameter
PTO
Tractor horsepower required - Minimum
Tractor horsepower required - Maximum
Quick-coupler compatible
Weight - Approximate

Machine

Cutting width
Centered
Centered

1.98 m
78 in.
Cutting height
13 to 127 mm
0.5 to 5 in.
Hood thickness
3.2 mm
0.125 in.

Blades

Number
72 (36 pairs)
Type
Smooth-cut, cupped-type
Tip speed

Rotor

Speed
1,850 rpm
Diameter
114 mm
4.5 in.

Drives

PTO
540 rpm
Gear case (cont. rating)
Belts
Single HC section
Gauge roller
140 mm
5.5 in.

Tractor HP Required

Minimum
22 kW
30 hp
Maximum
56 kW
75 hp

3-Point Hitch

Dimensions

Overall width
2.53 m
99 in.
Overall height
0.99 m
39 in.
Overall length
1 m
40 in.

Weight

Additional information